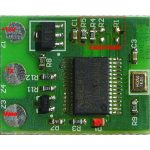 Univerzalni emulator zauzetosti suvozacevog sedista
40,00€
Opis
Univerzalni emulator zuzetosti suvozacevog sedista  i automatskog gasenja suvozacevog airbag-a . Zavisno od R1,R2,R4,R5 emulatora koji ispunjava odredjeni uslov.
Podrzani modeli :
Mazda
Mercedes
A class(..2003),
C klass(..2000),
E class (…99)
C klass(2000…)
E class (2000….)
Fiat Stilo
Fiat Stilo (suvozac prisutan ili nije prisutan)
BMW
E60
E65
E90
E70
You must make Jumpers for concrete Emu function.
Bellow is description how make the jumpers for all Emu functions.
If You remove All jumpers the Emu blinking soft version.
On-Jumper put
Off-Jumper remove
On Emu Board
Z1-+12V
Z4-TX
Z3-GND
—————————————————————
Ver 3.1
—————————————————————
SelfTest(pokazuje versje softu):
R1-OFF
R2-OFF
R4-OFF
R5-OFF
Renault Immo Emu:
R2-ON
R4-OFF
R5-OFF
R1-OFF
Mazda Ocupation Sensor:
R2-OFF
R4-ON
R5-OFF
R1-OFF
Conector of ocupation sensor
Blue -masa
Yellow +12V
Green RxTx
Mercedes Ocupation Sensor A class(..2003),C klass(..2000), E class (…99) (poprawiony w wersji 3.3!!!!!!)
R2-ON
R4-ON
R5-OFF
R1-OFF
Mercedes Ocupation Sensor C klass(2000…), E class (2000….)
R2-OFF
R4-OFF
R5-ON
R1-OFF
——————————————————————
ver 3.2
——————————————————————
dodano:
Immo VW Emu:
R2-ON
R4-OFF
R5-ON
R1-OFF
——————————————————————-
ver3.3
——————————————————————-
Ocupation Sensor Fiat Stillo
R2-OFF
R4-ON
R5-ON
R1-OFF
Correction Ocupation Sensor Mwercedes  Mata A class(..2003),C klass(..2000), E class (…99)
—————————————————————————–
*********************************************************************************
VER3.6
—————————————————————
SelfTest(pokazuje versje softu):
R1-OFF
R2-OFF
R4-OFF
R5-OFF
Renault Immo Emu:
R2-ON
R4-OFF
R5-OFF
R1-OFF
Mazda Ocupation Sensor:
R2-OFF
R4-ON
R5-OFF
R1-OFF
Mercedes Ocupation Sensor Mata A class(..2003),C klass(..2000), E class (…99) (poprawiony w wersji 3.3!!!!!!)
R2-ON
R4-ON
R5-OFF
R1-OFF
Mercedes Ocupation Sensor Mata C klass(2000…), E class (2000….)
R2-OFF
R4-OFF
R5-ON
R1-OFF
Immo VW Emu:
R2-ON
R4-OFF
R5-ON
R1-OFF
Ocupation Sensor Fiat Stilo
R2-OFF
R4-ON
R5-ON
R1-OFF
Ocupation Sensor BMW E60,E65,E90 wersja USA  2005…
R2-ON
R4-ON
R5-ON
R1-OFF
Ocupation Sensor BMW E60,E65,E90 Europa 2005…
R2-ON
R4-OFF
R5-ON
R1-ON
****************************************************************************
VER 3.7
Correction Option Emualtory Ocupation Sensor Mercedes A Clas A168 !!!!!!
______________________________________________________________________________
****************************************************************************
VER 3.8
Correction Option Emualtory Ocupation Sensor Stillo !!!!!!
______________________________________________________________________________
****************************************************************************
VER 3.9
Dewoo Immo (Nubira LEgazna Espero Lanos)
R2-ON
R4-ON
R5-ON
R1-ON
Desolder  R11 i R8!!!!!!!!!!!!!!!!!!
****************************************************************************
ver4.1
Poprawiona funkcja maty w Stillo-przetestowana i sprawna na 100%
*****************************************************************************
Ver4.2
Add:
Mercedes E Class W211 Temic Ocupation Sensor
R2-OFF
R4-OFF
R5-OFF
R1-ON
Ver4.3
Dodane:
Fiat Stillo Ocupation Sensor seat is occupied
R2-ON
R4-OFF
R5-OFF
R1-ON
Fiat Stillo fotel Ocupation Sensor seat is free (not occupied)
R2-OFF
R4-ON
R5-ON
R1-OFF
ver 4.5
Correction  Immo
ver 4.6
Add Function :
Mercedes 2.2D …1996 Lucas 1 Conector:
Mercedes Vito 2.0 Benz ECU Hybrydowy SIEMENS
Mercedes Vito 2.3 Benz ECU Hybrydowy SIEMENS
R1-On
R2-Off
R5-Off
R4-On
ver 4.8
Add Function :
Chrysler Bosch (1 Conector)
R1-On
R2-On
R5-Off
R4-On